A few weeks ago Maybeline were giving away some of their New Color Tattoo Gel-Cream Eyeshadows on there Facebook page but they only had a limited number to give away, to my surprise one dropped through my letter box this morning!!
They were released in the US some time before the UK and from reviews I have read people are comparing them to MAC Paint Pots, I have never tried a MAC Paint Pot as I am not really keen on cream eyeshadows but because this claims to stay on for 24HOURS I just had to test it out.
I got shade Eternal Gold which is a foil gold, there are 10 shades to choose from including matte and shimmery shades. They are currently out of stock on the Boots website but will usually retail for £4.99 for 4g. They come in a sleek round glass pot with a screw on lid.
"Dare to wear our longest-lasting shadow.
Our ink technology creates super-saturated color.
Cream gel smoothes on for vibrant color that does not fade".
Our ink technology creates super-saturated color. Cream gel smoothes on for vibrant color that does not fade".
So as soon as I had opened my package I swatched it on the back of my hand, it was creamy to the touch but once applied it dried to a smooth layer quite quickly, once it had dried fully I ran my finger over it expecting some colour to wear off but it didn't, not one little bit. From my experience with cream eyeshadows they feel dry and horrible almost flakey, but this was like a second skin of colour!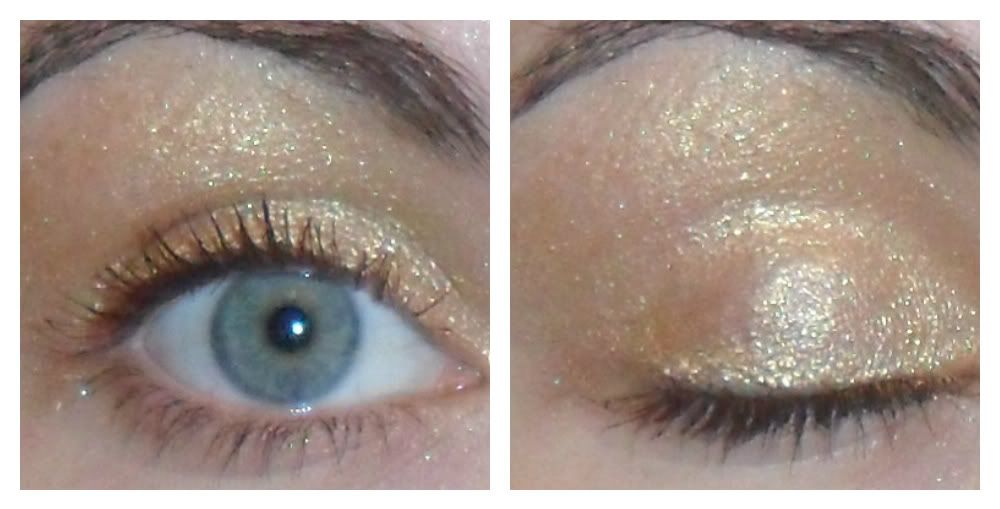 These pictures above don't show how gold this shadow really is, it is super reflective making it hard to capture it's true colour. You will have to take my word for it!
The above pictures were taken after 9 hours wear without any touch ups and when I applied it I only applied one layer, it could be built up for a more intense colour.
I am amazed at the staying power of this product, I thought I would try just soap and water to wash it off, but no it didn't budge (faded ever so slightly) so I got my makeup remover out and it cleared it all off. I really do think this would last for 24 hours, but I don't wear makeup for 24 hours a day so can't be sure and didn't fancy testing that out!
Would I recommend this product? Yes definitely.
Will I use it again? No, this is only down to personal preference, I much prefer powder eyeshadows that I can blend, there would be no way of blending this as once it's dry it's dry and it won't budge!
If you use cream eyeshadows then you are most definitely going to love these!!
Have you tried these yet?