The sun is shining outside and I have had the afternoon off work after working all weekend, most people would want to be outside doing something fun like having a beverage.

But I am exhausted so I decided to have a little pampering afternoon. I went to see what goodies I had to pamper myself with and initially thought 'uurrgghhh I don't have anything' but after opening my eyes and stopped being silly I have lots of things that need using up just because they aren't brand new doesn't mean they should be unloved sat on my shelf waiting to be swapped/sold!!

So here is what I used to pamper myself with WITHOUT buying anything new (for a change), some of these items I have previously reviewed so I will post the link next to it in case you missed it.....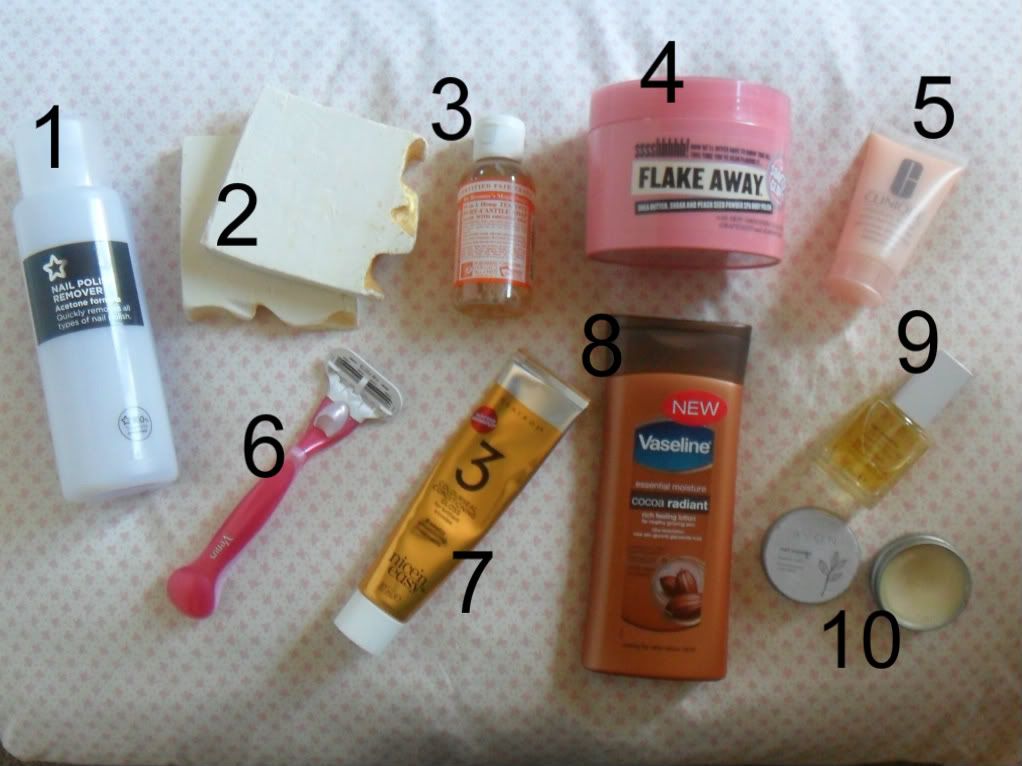 1. Superdrug nail varnish remover - I stripped my nails of all the polish I have piled up on them over the past week, I like to give them a break now and again!
2. My all time FAVE soap, if you are a regular reader you will know what this is, new readers can you guess?
ANSWER REVEALED HERE
!
3. Dr Bronners soap - I think some people received this in a beauty box that I am not subscribed to (Glossy Box I think?) but I have heard great things about the product so I bought some on eBay, I haven't posted about this item yet as I have only been using it for about 4 days but I will post about it in the next few days. I used this as a face mask.
4. Soap & Glory Flake Away - This is fab for a scrummy smelling at home body polish!
5. Clinique Moisture Surge moisturiser (This was a freebie with this months Glamour magazine) - If you suffer from dry skin (which I don't but everyone's skin could do with a moisture boost every now and again) this is amazing! I put this on my face thickly after my soak in the bath.
6. Venus Razor - For obvious reasons. I don't do waxing (apart from my eyebrows that pain I CAN cope with)!!!!
7. Nice'n Easy Blonde conditioner
(Post)-
Once a week I slap nearly a full tube of this on my long thick hair and leave it on for 15 minutes, it makes my hair feel soooooo soft and really combats dry straw like hair!
8. Vaseline Cocoa Radiant moisturiser
(Post)
- This was my bargain find in Tesco, smells delicious and soaks in beautifully, I am covered in it at the moment!
9 & 10 Below.....
I am not a huge Avon fan to be honest, their products are very hit and miss but I find there nail care AMAZING!
I have posted previously about the
cuticle balm here
and the yellow polish is a lemon fortifier, it's like a nail polish, applies like a nail polish and dries like a nail polish and gives you a clear shiny finish but it strengthens nail and makes my nails look sooooo healthy, I have had both of these products for aaggggeeesss, they last for so long. They vary in price as Avon do regular offers but at the moment you can pick both of them up for around £6.00. I would definitely recommend trying Avons nail care.
So this is how I have spent my afternoon, pampering myself, and this evening I will be catching up on my favourite blogs.
Hope you have all had a fabulous weekend and your Monday has been bearable.